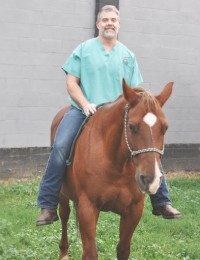 Jeremy Schultz is a native of Eastern Washington, having grown up in Okanogan County. As a kid, he was active in 4H and in local rodeo and roping events, and played football in high school. Jeremy attended Washington State University and graduated from their College of Veterinary Medicine in 2004. Since then, Jeremy has worked as a veterinarian in Centralia, Omak, and Wenatchee – working on horses and cattle, as well as dogs and cats.
Now that his "formative" years as a veterinarian are behind him, Jeremy looks forward to a long career in a community that he can call home. He has been with the Colville Animal Hospital since September of 2012.
Jeremy is married to Mary, and they have a daughter, Lena. They also have 3 dogs, 5 cats, 2 horses and a rabbit.